Tapasin tällä viikolla aivan ihanan herttaisen Annin, joka kirjoittaa smoothie bowleistaan tuttua Blueberry boost blogia. Blogissa viime aikoina melko tiheään vieraillessani olen saanut sellaisia ruokainspiksiä, että oksat pois. Niiiiiiin ihania ruokakuvia ja reseptejä!!!
Annosten koristelu tarttui vähän meikäläiseenkin kun päätin extempore ehostaa arkiaamiaiseni. Kaadoin smoothiet lasien sijaan jogurttikuppeihin ja aloin metsästämään aamukiireessä koristeita. Kaapit tietenkin ammottivat juuri tällöin tyhjyyttään. Ei siis mitään tuoretta tai edes kivan väristä. Hätä ei kuitenkaan ollut tämän näköinen, let's improvise!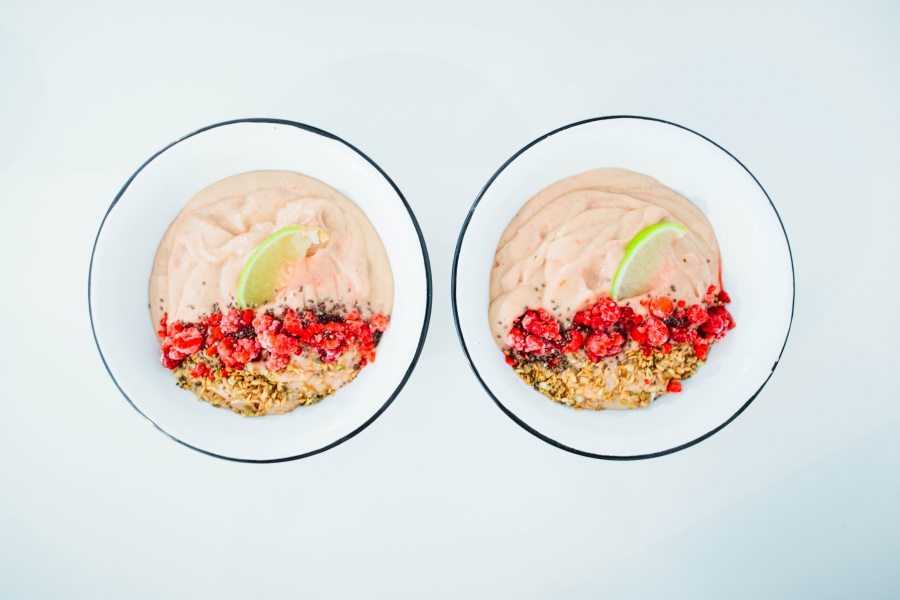 Vadelma-kookos smoothie bowl (2 annosta)
1 iso banaani
1 avokado
1 limen mehu puristettuna
200g vadelmia
n. 1,5dl Kookosjuomaa (Alpro)
koristeluun vadelmia, chian siemeniä, limeä ja siemensekoitusta (pellavansiemeniä, karpaloa, mantelia)
I wanted to make a smoothie bowl for breakfast but I had like zero ingredients at home. Instead of giving up, I decided to improvise! So here it comes, the empty fridge version of smoothie bowl. You'll need one banana, one avocado, one lime, 200g raspberries and 1,5dl coconut drink (Alpro). On the top lime, raspberries, linseeds, almonds, dried crandberries and chia-seeds. Yummy!
xx Sara