HUH! Maraton ohi! Ja mitä vielä, alun takkuilusta huolimatta selvisin ja ylitin omat epäilykseni astumalla maaliviivan yli ajalla 3.39.14. Alkuperäinen tavoitehan oli alittaa neljä tuntia. Tavoite tosin päivittyi tuossa reitin varrella, muutamaankin otteeseen. Tämä oli jälleen kerran todiste siitä, että itseensä uskomisella ja oikealla asenteella päästään vaikka mihin.
Ensimmäinen 21 km taittui rauhallisemmin 1h 54 minuutissa kun jälkimmäisen kanssa meni 1h 45 minuuttia. Juoksu kulki hyvin, tosin ensimmäiset 5 km taistelin vatsapiston ja kolean kropan kanssa (ensi kerralla kunnon alkulämmittelyt!). Siitä selvittyäni päätin antaa vaan palaa, nauttia juoksusta ja hyvästellä kaikki pelot mahdollisista seinistä. Päätin etten anna yhdenkään seinän tulla tielleni.
Reitti kulki ristiin rastiin Kööpenhaminan keskustassa, joten jengiä oli juoksun varrella tavattomasti. Pilveettömältä taivaalta paistaneella auringollakin oli varmasti tekemistä asian kanssa. Tunnelmaa en pysty edes kuvailemaan. Meikäläinen heitti varmaan 300 yläfemmaa ja jorasi (ja lauloi… :D) soittolistalta korviin kantautuvaa musiikkia ilman minkäänlaista häpeän tunnetta 😀 Myös lentokonefiilistelyitä nähtiin useita, haha. Koska juoksunumeroiden alla luki kunkin juoksijan nimi, kannusti jengi meitä nimillä, niin huikeeta!
Ainiin ei pidä unohtaa yhtä juoksun kohokohdista. Se oli kiistämättä 35 km:n kohdalla kun liukastuin banaaninkuoreen 😀 Eli kyllä, sitä tapahtuu mustavalkoelokuvien ulkopuolellakin.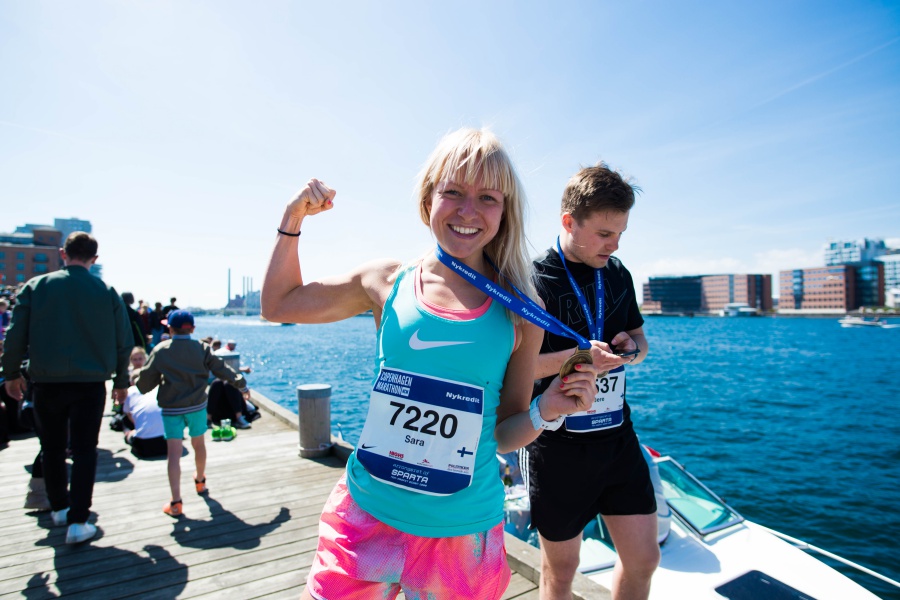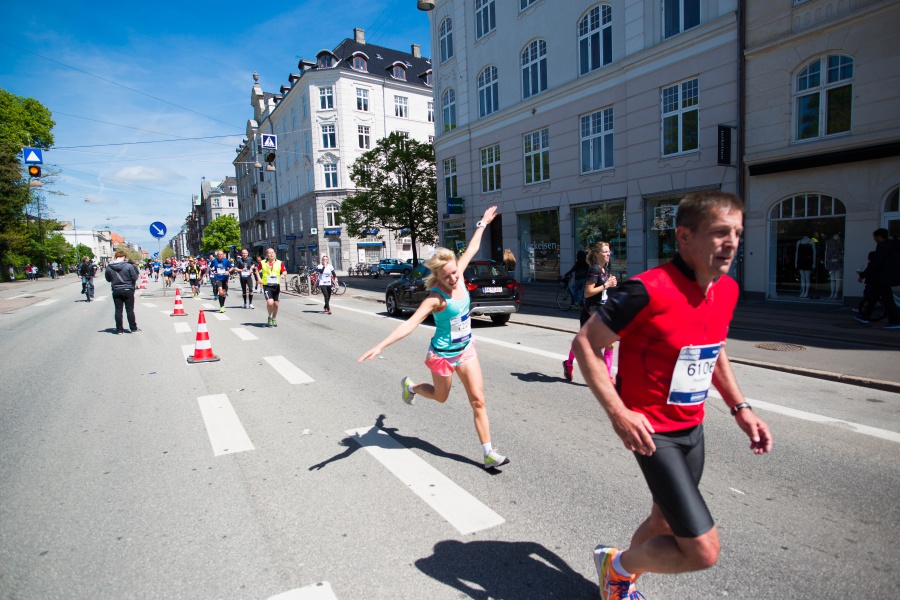 Iso kiitos teille ihanista tsempeistä tääällä! Ja jättimäinen kiitos meidän juoksuvalmentajalle Aki Nummelalle tästä ihan huipusta juoksukeväästä ja niistä lukemattomista pk-lenkeistä, joiden tempoa on tullut kiroiltua ihan muutamaan otteeseen, haha. Ja meidän tiimille! Alitettiin kaikki 4h ja pojat vielä ekalla maratonillaan, huh!! Ja Elli oli maailmankaikkeuden paras huoltojoukko!
Jalat superhellinä ja naama + olkapäät auringosta hieman (=todella) punottuneina totean, että juokseminen, se on IHANAA. Tällä hetkellä hotellihuoneessamme pohditaan, että pitäiskö osallistua HCM:lle? 😀
Copenhagen marathon DONE! The day was super and I made my new record: 3h 39min 14 seconds!!
T. Sara