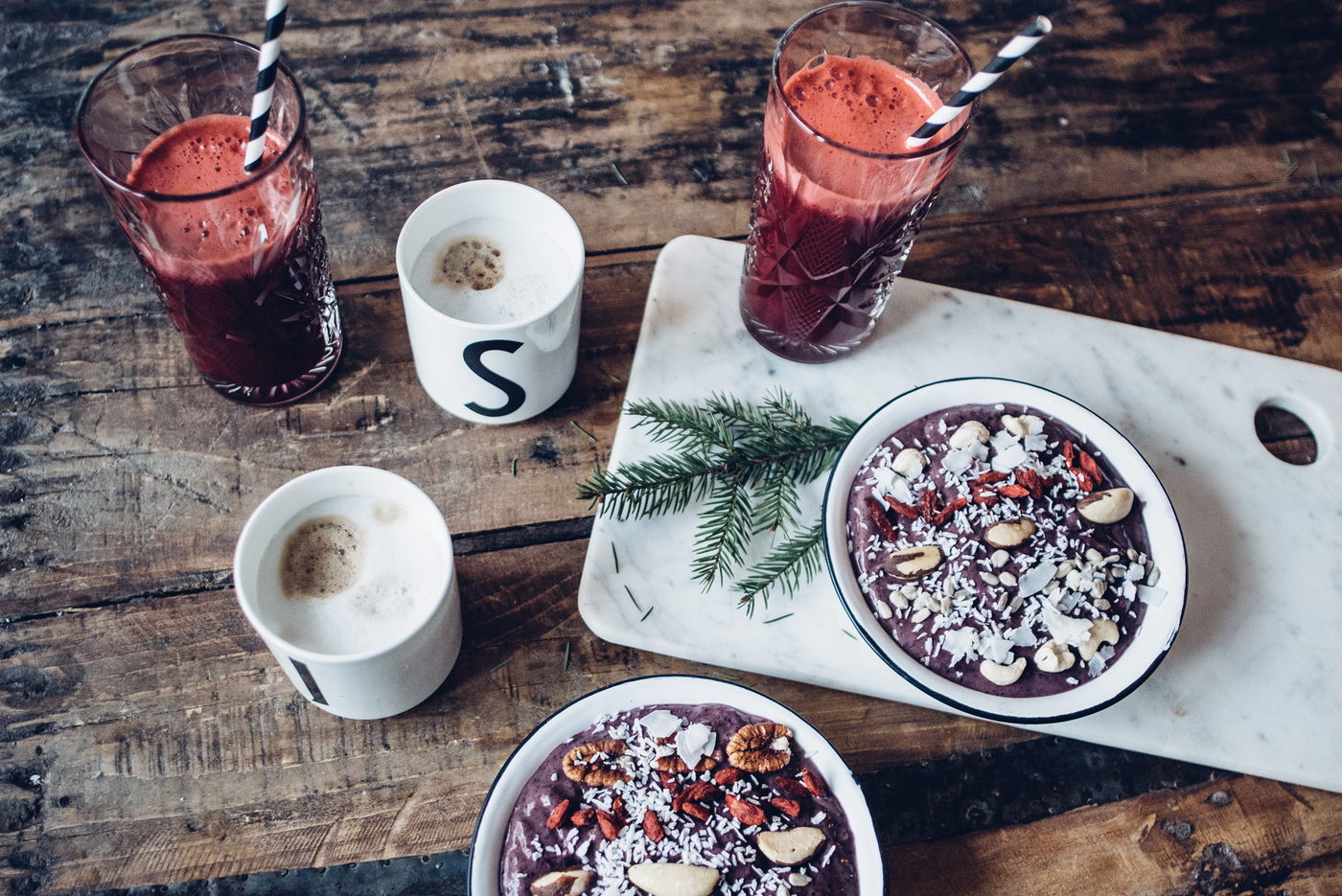 Puoli yksitoista näytti kello kun avasin ensimmäisen kerran silmät tänä aamuna. Ja juuri kun olin edellisenä päivänä vakuutellut mummille, kuinka me ei enää yli kahdeksaan oikeastaan nukuta…
Luin loppuun artikkelin, johon olin edellisiltana nukahtanut ja astelin keittiöön. Auringonvalo tulvi sälekaihtimien raoista sisään. Käänsin sälekaihtimet auki ja bongasin heti kolme liehuvaa suomen lippua takapihalla. Ne näyttivät erityisen upeilta sinistä taivasta vasten ja tunsin heti ylpeyttä kotimaatani kohtaan. Avasin ikkunan hetkeksi ja vedin keuhkot täyteen raikasta pakkasilmaa. Tänään on pakko päästä ulkoilemaan!
Laitoin Spotifysta tutun joululistan päälle ja aloitin aamiaisen valmistuksen.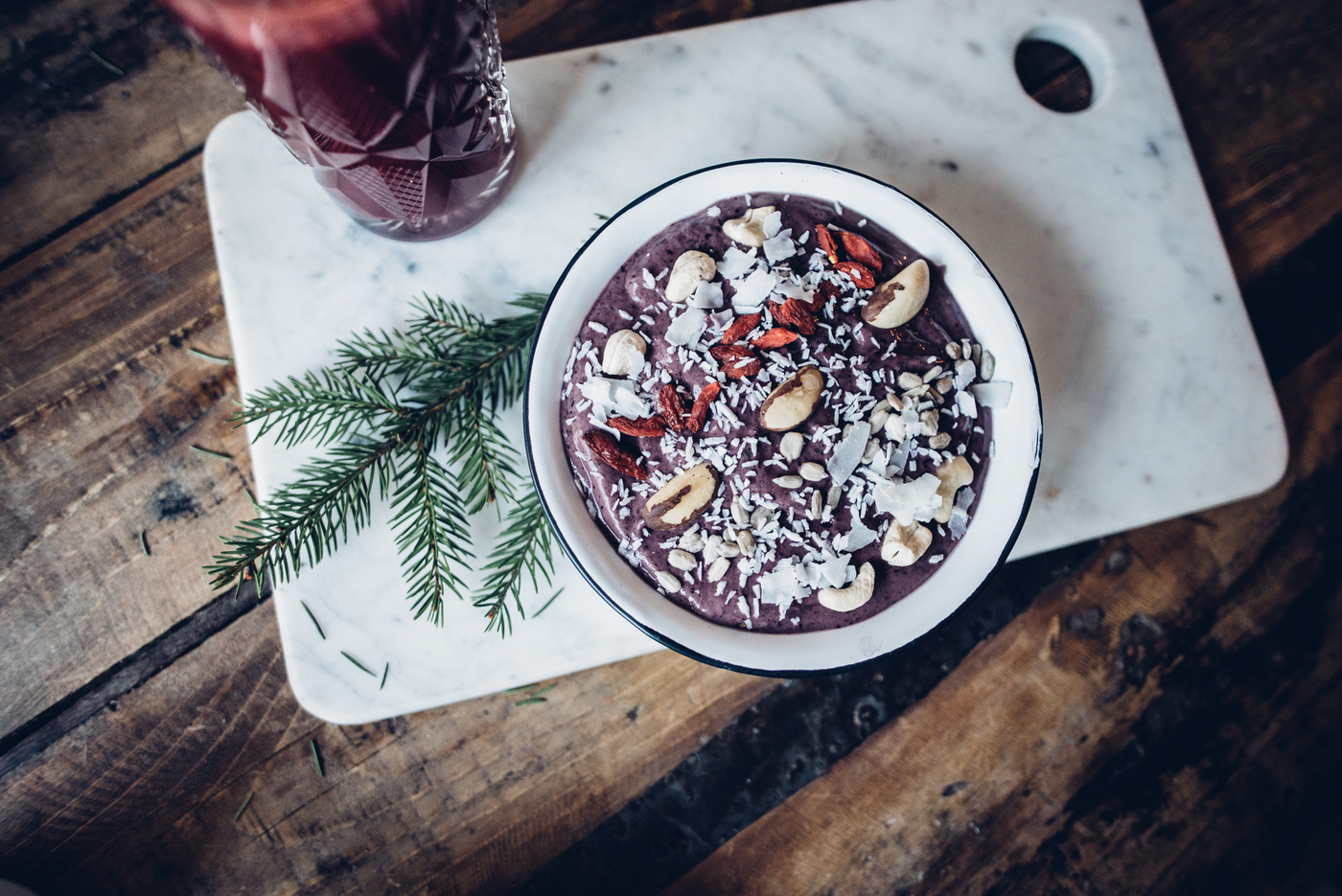 Punajuurimehu 2:lle
1 punajuuri
2-3 appelsiinia (koosta riippuen)
1 sellerin varsi
3 porkkanaa
pala tuoretta inkivääriä
Mustikkasmoothie bowl 2:lle
kourallinen pakastemustikoita
2 jäistä banaania
2 avokadoa
kourallinen lehtikaalia
tuoretta minttua
3/4 dl heraproteiinia
1 dl kookosjuomaa
1 dl vettä
Koristeluun: pähkinöitä, kookoshiutaleita, kookoslastuja, auringonkukansiemeniä, goji-marjoja
(kiitos Foodinille koristeista!)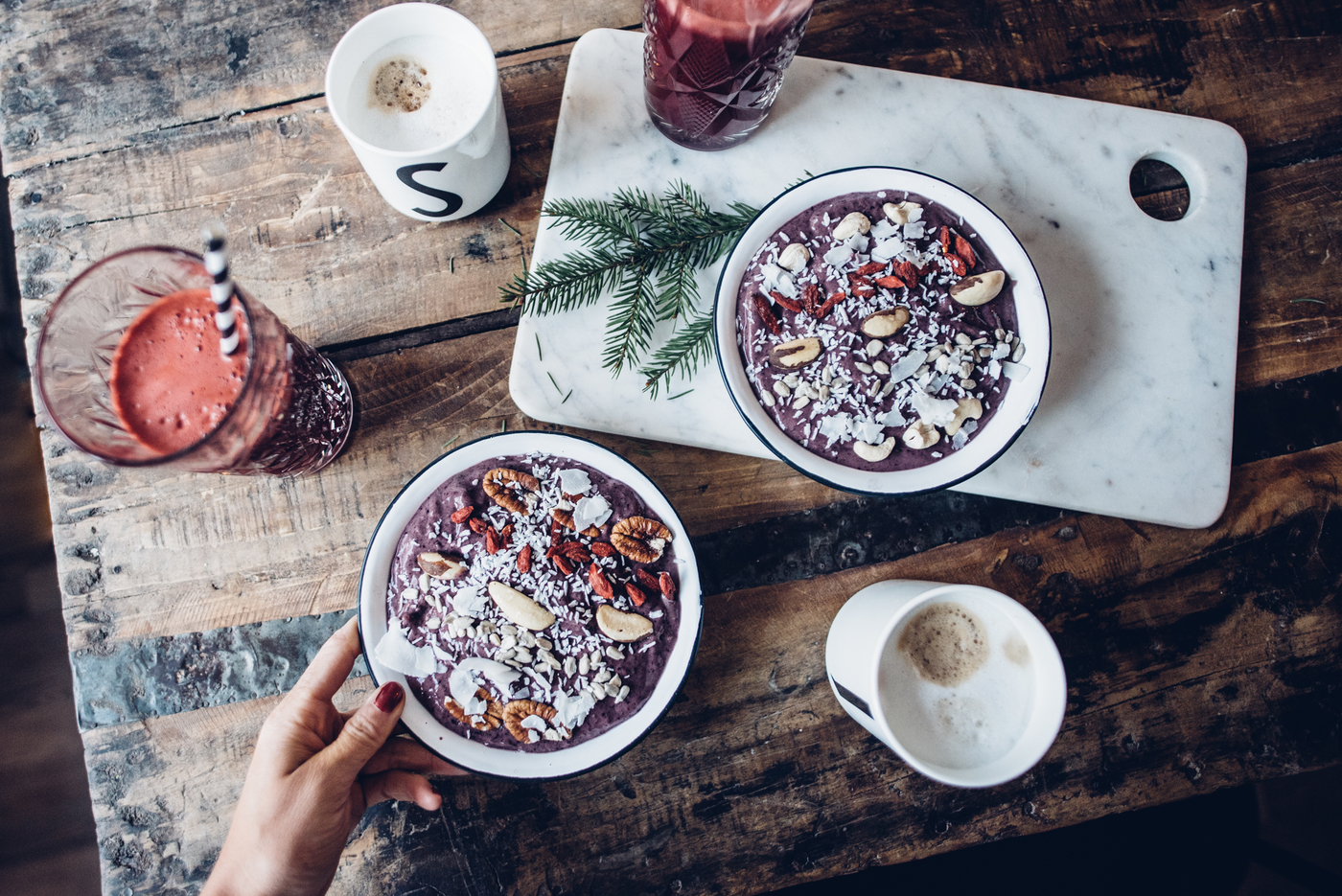 Mukavaa itsenäisyyspäivää kaikille!
// Today is the independence day on Finland. We're celebrating our dear home country with a sloooow breakfast! Fresh incredients only! Here's the recipes:
Beetroot juice for two:
1 beetroot, 2-3 oranges (depending the size), 1 celery, 3 carrots, fresh ginger
Blueberry smoothie bowl for two:
handful of frozer blueberries, 2 frozen bananas, 2 avocadoes, handful of kale, fresh mint, 3/2 hera protein, 1 dl coconut drink, 1 dl water + Nuts, goji-berries and coconut flakes on the top!
xx Sara